How I Survived My First Year of Graduate School (and you can too!)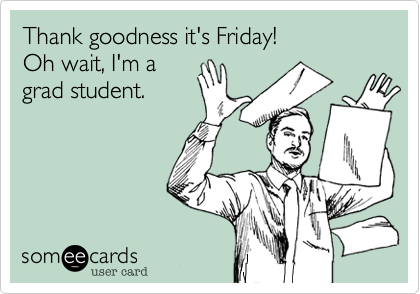 Around this time last year, I had finally received that life-altering email that had prompted numerous hits of the refresh button by the minute: an acceptance into a doctoral program. At first it was all cheers of joys and phone calls to distant family members and facebook statuses with one-off triple-digit number of likes. As April turned into May turned into June; however, and August was clearly in the horizon, a lot of the thrill started to be replaced by a crippling fear.
Much like anyone who had ever been in this place before, I began self-diagnosing an early case of Imposter syndrome. No way I was ready for this! The selection committee had obviously made a mistake! Even now I get that feeling fairly often, however, somehow I am nearing the end of my first year and I survived! I didn't fail statistics or get escorted off the campus compounds by security, mirroring a particularly mortifying nightmare. I am still here and I plan to be until I have that Ph.D degree, even if there is a tiny voice in the back of my head asking me if I deserve to be. I am doing well. The hard part is the beginning because it comes with the most variances of uncertainties and insecurities. The hardest bit is over and the rest may resemble a roller-coaster ride more than a walk in the park, but I am all buckled up.
Here are some tips that helped me not only survive but cherish my first year of graduate school. I hope it will help those of you worried about starting out this fall.
Peer support is everything
I can't shake off the feeling that I was particularly fortunate in landing in graduate school amongst an incredible group of people as my cohort members, but every program, every department, every cohort has some. In less than a year, I have discovered some of the strongest human relationships I will savor for a very long time, and my peers have been a wonderful positive influence in my professional and personal life. We work together, we write together, we laugh – often times a little too much – together and sometimes when we don't exactly manage to read a 500-page book that was assigned over the weekend, we read together. Everyone has a very special skill and that means that it is far easier to achieve mastery together than alone.
In the beginning at least, I think it's useful to focus on building peer networks and in graduate school it's so much easier than ever before: you're all here because you have decided to dedicate your whole lives to advancing the same field of academia. You already have as much in common as probably the average meetup.com group, and you didn't even have to ask them to join! Some of them will even have a regression equation tattooed on their forearm, so when one or more of you are struggling with the numbers, they will show you that Stata can be fun. Make friends. It's a priority.
Everybody has a different style of working
In conjunction with developing peer groups, this is important to keep in mind, because very often it's easy to feel as though everyone is doing twice or more as much as you are. For me personally, one of the most difficult things to do was to admit to myself that I am not a workaholic. I love Sociology and research and every last bit of graduate school, but I also like having time to pursue the things I love. And sometimes "the things I love" translates to simply waking up on a Saturday morning and not leaving the bed till 3 p.m. because one of the perks of the year 2015 is that Friends is now on Netflix. Yes, that show about six white straight cis-gendered Americans – but that's for another blog post. My point is that it is ok to be lazy sometimes. It is okay to party and have fun sometimes. Just because one of your peers works seven days a week, 12 hours a day does not mean you have to do the same. They do that because that's how they work best. Find out how you work best and follow through. I'm not recommending slacking, but chances are if you made it this far in academia, you're not a slacker. You work hard, some people it seems, work harder, but eventually, you will all get where you need to go as long as you have a passion and some kind of a system that works.
Start a research project independently in your first year
If nothing else, this is great practice. Chances are something you write – or start collecting data for – on your own in the first year won't make it to ASR, or anywhere, or maybe it will if the stars align. Do it anyway. There is always some extra time between coursework and Teaching Assistant responsibilities and whatever else you are committed to that should first be dedicated to attempting independent research projects. Keep in mind that eventually, this is going to be the crux of your career, so it's important to start early.
If you are single, go on lots of dates with graduate students from other departments
There is so much exciting stuff happening in the world outside of your department and it's always worthwhile to expand your knowledge of the knowledge that is being created elsewhere. This lovely post on Sociology Lens makes a truthfully hilarious case for why graduate school is probably not a great time to be starting a relationship. But I think this is not quite so true for the short, casual coffee dates on campus with other graduate students in other departments. It's a great way to practice this form of social interaction for when you are ready for a relationship – because in 5+ years, I bet we forget some of these skills – and learn about history or philosophy or astrophysics.
Be on reddit!*
Yes, really. Reddit has a lot of not so great things going on – some extreme forms of misogyny to name one – but it can be very useful to keep up with the news, read a varied set of opinions of different issues and sometimes just to admire a stranger's puppy. For new graduate students in particular, there are some very useful subreddits than you can find and explore: /r/statistics and /r/dataisbeautiful are some classics. Recently I discovered /r/datasets, where you can share and request data sets with other users for your projects!
*or any similar content aggregator
6. Run
Let's make that a proxy for exercise in any way you enjoy. As someone who had sworn a life-long allegiance to retaining my couch-potato status, it's only in the last few months of graduate school I realized how much of a difference a little exercise makes. I am about to complete a beginner's 5k running program and it has been so helpful in keeping me on check with schoolwork. On the days I run, I have more energy, better ideas, more discipline, but most importantly, I have so many endorphins in my brain that I get pure elation from just the awareness of where I am: graduate school. It was exactly where I always wanted to be, and sometimes when the workload gets stressful, it's easy to forget that. Those endorphins always do a great job of reminding me! Collect all of them and enjoy these awesome years.
Photo Credit: Education Graduate Students